Important Reasons why you Should Ceramic Coat Your Exhaust Headers and Turbo Parts
High-temperature ceramic coating is often referred to as an exhaust coating, header coating or high heat coating..
It does not use nanotechnology and is designed to bond on top of surfaces. High-temperature ceramic coatings are designed to prevent corrosion of items that are prone to high heat. In fact, they can withstand constant exposure to temperatures up to1000+ degrees c.
When applied correctly, high-temperature coating will produce a hard finish that is resistant to chipping and rust – or corrosion. Nanoceramic coatings are microscopic in thickness, and likewise, make the protected surface resistant to similar items.
These types of ceramic coatings are also available in multiple colours, from flat black to bright red. You can opt for high-gloss or matte finishes, including satin metallic.
What are the benefits of Ceramic Coating?
This list provides a simple outline that explains how the ceramic coating process can help your parts perform better and last longer all while maintaining a showroom finish.
Improves thermal efficiency of the engine system.

Reduces radiated heat levels on all exhaust components, especially effective on tubular performance headers and exhaust manifolds.

Maintains uniform temperature throughout the exhaust system.

"

Trapped" heat improves exhaust gas velocity, effectively "scavenging" each cylinder and increasing horsepower and torque.

Keeps the engine compartment cooler.

Extends header life.

Lower temperatures extend the life of neighbouring components.

Improves thermal oxidation protection at higher temperatures.

Reduces parasitic drag losses.

Provides a custom appearance with flat, satin, finishes.

Easy to clean and maintain.

Ceramic coating provides protection against rust and corrosion.

Available in a variety of colours and finishes to fit any project.

Mil-Spec rated material and approved QPL colours

Ceramic coating for firearm application
What Do You Use High-Temperature Ceramic Coatings for?
Typically, a consumer will use a high-temperature ceramic coating on high performance, aftermarket parts or refurbishing original items. It can be applied to aluminium, stainless steel, carbon steel, chrome, and cast iron.
It is also exceptional on pistons, headers, turbo intakes, housings, brackets, and exhaust manifolds, headers, and pipes.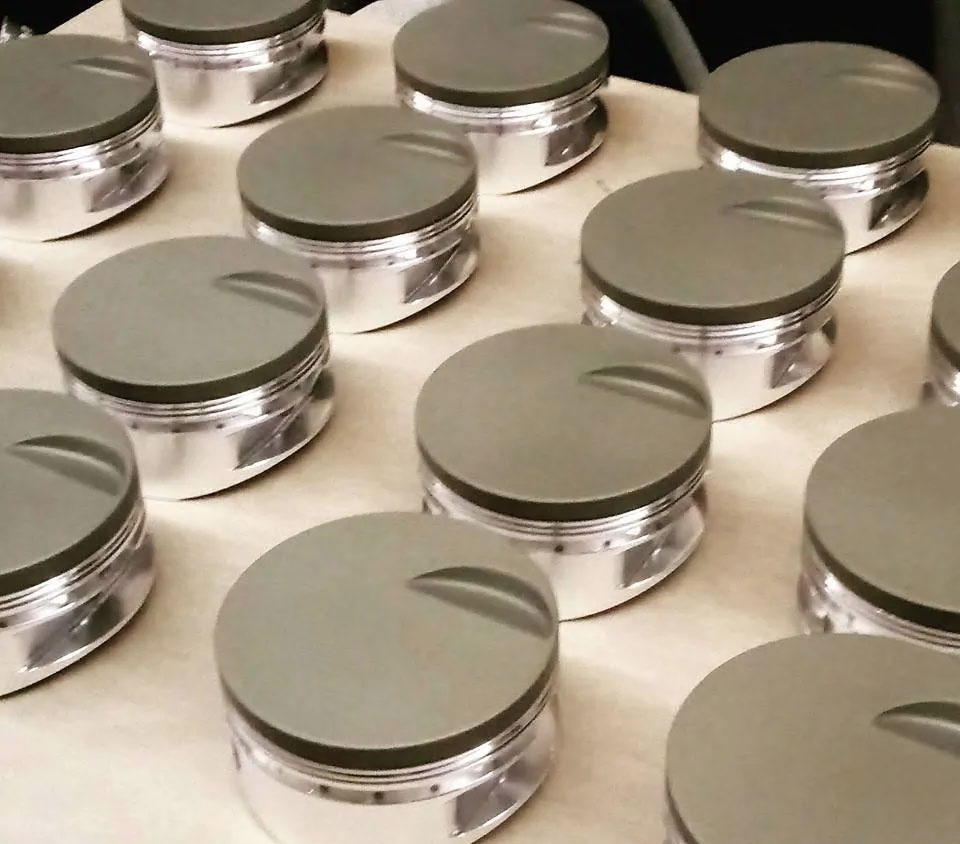 V Series Piston Coat is a dark bronze/gold with a soft metallic look. It's an oven cure ceramic thin film thermal barrier coating, designed to be applied on the top of pistons, top of valves and the combustion chamber on a cylinder head. Suitable Substrates:
All ferrous and non-ferrous metals.
All V Series coatings are one-part, ready to spray.
V Series ceramic coatings are the unrivalled leader in high-temperature thin-film performance coatings, capable of temperature up to 1800F.
V Series coatings provide unmatched high-temperature performance while providing excellent chemical resistance, durability, and aesthetics.
The foundation for Cerakote V Series coatings is a unique inorganic ceramic technology that imparts both high-temperature performance and excellent physical stability. Due to the inorganic chemistry.
What are the Advantages of Using High-temperature Ceramic Coatings?
Most car enthusiasts invest thousands in upgrading their fuel and exhaust systems for optimal performance. If they are smart, they will protect those investments with a spray high-temperature ceramic coating, simply due to the multiple advantages they produce.
Further reasons to ceramic coat your exhaust and fuel system components is to protect them from exposure to high heat, oxidants, corrosion, and rusting. Headers and exhaust system parts specifically are exposed to debris and contaminants from below the vehicle. This can include road grime, salts, and other chemicals, dirt, and debris and more.
For those living near oceans or saltwater lakes, the exhaust pipes (specifically those under the vehicle) can quickly become corroded, slowly rust, and eventually crack.
Applying a high-temperature ceramic coating protects your undercarriage exhaust parts from oil and gas and other chemicals that lead to corrosion of metals. Some ceramic coating products can even help reduce damage from rocks, sand, and dirt, and even tree branches.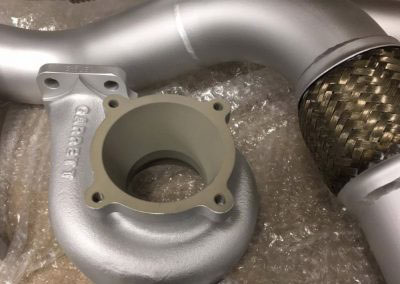 You have probably been introduced to the term thermal cycling. If you have not, here is basically what happens. As parts get hot (like glowing red hot as they do inside a turbo's housing), then rapidly cool – the metals go through a thermal cycle. Over time, this can cause the metals to become brittle, leading to damaging like cracking, corrosion, and complete failure.
https://en.wikipedia.org/wiki/Thermo-mechanical_fatigue
Applying a high-temperature ceramic coating spray on turbo parts (specifically those powered by diesel fuel) helps to maintain a lower surface temperature of metals. This reduces thermal cycling/, fatigue
which extends the lifespan of turbo housings and other parts that go through rapid temperature cycling.
Improves the Lustre and Appearance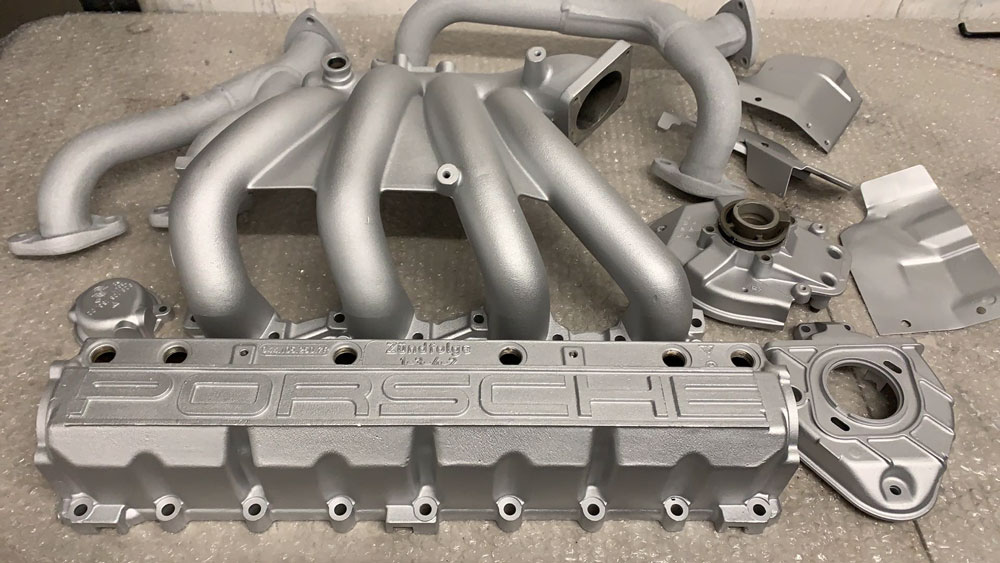 If you've chrome headers in the past, you have likely noticed that discolouring on bends. This is due to excessive heat focused on those twists and turns of metal, and chrome's inability to handle extreme heats. Applying a high-temperature ceramic coating not only improves the heat absorption but also improves the appearance.
It reduces flaking, bluing, and discolouring that is associated with chrome, powder coatings, and other temperature-sensitive materials. Additionally, there are multiple colour and style options including aluminium coatings.
When the exhaust system does not match the improvements made up top, you can lose performance. To counteract this – smart car owners upgrade their exhaust systems, from the manifold to the muffler. Applying a high-temperature ceramic coating can help improve the efficient flow of exhaust through your system, our engine to burn more fuel, and thus – making more horsepower.
A ceramic coating can increase the speed of the exhaust gas flow. Likewise, it can help reduce thermal tumbling, which happens when hot spots develop on bare metal (like those bends of tubing on exhaust pipes).
When the headers and the manifold are coated, heat is disbursed across the entire metal material. It can also eliminate backpressure, which improves the flow of exhaust and thus – increase in horsepower.
Transfer Grey is a charcoal grey colour with a soft metallic finish. Cerakote Heat Dissipating Coatings are a line of submicron coatings with industry leading thermal conductivity. Transfer Grey is typically used on applications requiring a high thermal conductivity to transfer heat away from the energy source. Typical uses include but are not limited to radiators, engine blocks, transmission cases, heat syncs, intercoolers and anywhere heat dissipation is required.
Hot Arc Wire aluminium Plasma coating.
Plasma coating is a very rugged coating that will offer outstanding protection and performance on all types of substrates up to 800 Celsius, heat levels and lowers heat loss.
This coating also protects against thermal fatigue, rust, corrosion, oxidation, and metal fatigue in the harshest conditions protecting against damaging elements that will increase the life of your parts many times over.
This coating is highly recommended for exhaust components that have high amounts of heat as turbo housings, manifolds or any type of ferrous or non-ferrous items that requires long term protection as underbody parts, chassis, wheel arches, suspension parts and much more.
Alloy plasma coating has a  light semi-rough finish that also helps to disguise some corrosion pitting left behind after blast cleaning.
Plasma coats can be applied to any alloy, cast iron, steel or stainless steel products.
• Turbine Housings (Highly recommended)
• Turbo Headers/manifolds (Highly recommended)
• Supercharged engine exhaust (Highly recommended)
• Full exhaust systems.
• Heat shields
• Industrial items.
This coating is highly recommended for steel or cast iron manifolds/exhaust parts inc turbo housings.
It will stop rust creep through the surface and will stay looking great for many years to come.
Helps to reduce heat loss by 5 to 10% above temperatures of 200c
After the application of plasma alloy coat, a further ceramic colour coat can be applied.
https://ctc-powder-coating.co.uk/c-series-high-temperature-ceramic-coating-swatches/
https://en.wikipedia.org/wiki/Plasma_transferred_wire_arc_thermal_spraying
Zirconia.
What is HVOF/TBCs zirconia Ceramic Coating?
Thermal barrier coatings (TBCs) with improved resistance against, thermal cycling to prevent problems of over-heating in the hot sections such as manifolds & exhaust systems. Plasma-sprayed TBCs consisting of a bond coat and zirconia overlayers stabilized with different materials.  The best performance in all tests was shown by zirconia partially stabilized according to rigours testing as used in Aircraft Jet engines; furthermore, heat treatments, as well as ongoing optimization of the spraying parameters of the TBCs, demonstrate radical improvement in heat reduction and corrosion resistance and performance in some instances.
The ceramic coating offers a heat insulator and will reduce the overall surface temperature within the exhaust by up to one third.
Reducing surface temperature under the bonnet helps to make a cooler environment for the intake temperatures and can help to improve the engine power.
Ceramic coatings are used by some motorsport enthusiasts and also commonly used other parts that will experience high temperatures, even including parts of the car body shell to help keep the cabin temperature lower.
https://en.wikipedia.org/wiki/Thermal_barrier_coating